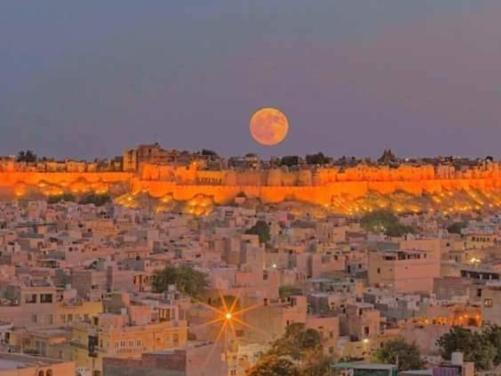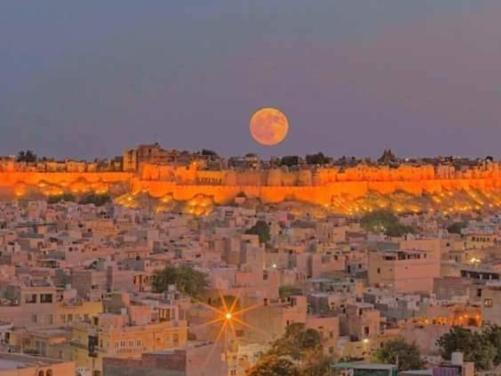 The climate of Jaisalmer is influenced by its location in the Great Indian Desert. Because it is located in an arid desert environment, the city is prone to temperature swings. This is why, it is tricky to decide the best time to visit Jaisalmer. Throughout the year, the region has a dry environment. In both summer and winter, the temperature swings dramatically from day to night.
Summers are hot, humid, and windy. Summer temperatures average around 49 °C (120 °F), with a minimum of 25 °C (77 °F). The season lasts between the months of April to September. During the winter, the temperature remains low. This season is brief and mild; and the weather is dry and largely clear. The daytime temperature reaches a high of 24 degrees Celsius, while night time temperatures drop to 7 or 8 degrees Celsius. Between November and February, the winter season is in full swing. The monsoon season in the region is not well defined. During this season, the region receives extremely little rain.The region receives 15 cm of rainfall every year as a result of the disturbances. Thus we can see that the optimal time to visit Jaisalmer is difficult to determine.
Take into account the season before visiting this city. If you don't mind the heat, you'll find less crowds and better rates during the summer. However, visiting during the winter months will provide you with a more comfortable desert experience. It's a fantastic time to visit Jaisalmer.The highest temperature does not exceed 24 degrees Celsius, making sightseeing and other outdoor activities like camel rides and desert safaris more enjoyable.
For Jaisalmer, two nights and three days are ideal, but it is entirely up to you.The activities you wish to do may demand a bit longer time, so three nights should enough. Opt for a tour of the Thar Desert that continues well into the evening. A spectacular sunset followed by a magical night under the stars is well worth missing bedtime for. Last but not least, please think well before you decide the time to visit Jaisalmer.