The Gadisar Lake is one of Jaisalmer's most spectacular man-made features. This lake, located in Rajasthan's desert region, has the appearance of an oasis. This man-made lake, built around the 12th-13th centuries by King Rawal Jaisal, the founder of Jaisalmer, is now a renowned tourist destination. It was once known as Jaisalasar Lake as a result of this. It was the Jaisalmer region's only supply of water at the time. Gadsi Singh renovated the lake later, and so,it was called Gadisar Lake.
It's a great place to visit if you're interested in architecture, culture, or serenity. The Gadisar lake's side is lined with intricately carved Chattris, Temples, Shrines, and Ghats. A prominent Krishna temple has been erected on top of the yellow sandstone gate. Its allure stems from the fact that it was once the city of Jaisalmer's only supply of water. Because of its proximity to Bharatpur, the lake attracts a variety of migrating birds, which adds to its beauty. Catfish of many varieties can also be found in the Lake.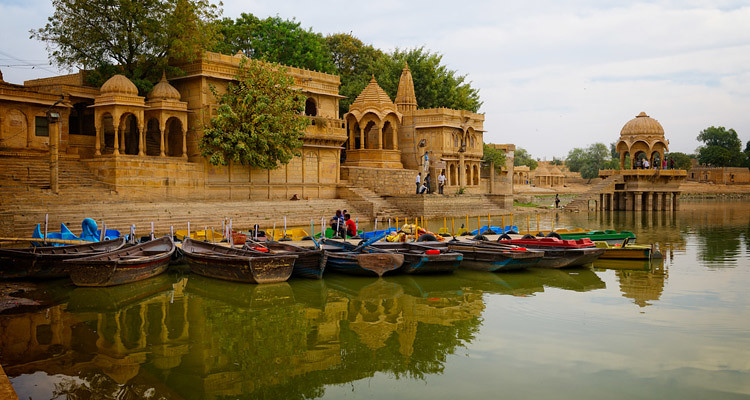 Natural beauty surrounds the lake and is a must-see natural attraction. The tourism authority of Jaisalmer is taking serious measures to safeguard the lake's beauty and purity. The Gadisar lake is unique in that it never dries out since it receives constant water from the Indira Gandhi Canal.
On this lake, one can have a relaxing and peaceful boat ride.
The Gadisar lake is open throughout the week from 8:00 am to 7:00 pm. One can also boat around the lake at nominal rates, the rates being
for Pedal Boat (2 Seater) -Rs 100
for Pedal Boat (4 Seater) – Rs 200 and
for Row Boat (6 Seater) – Rs 300.