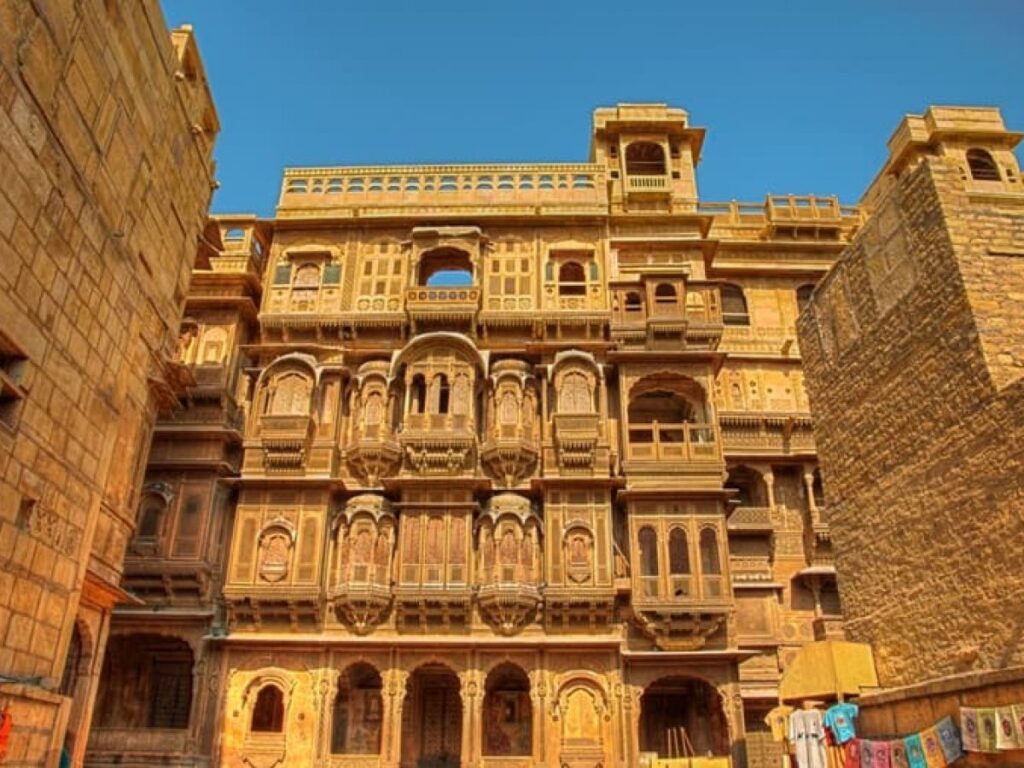 The "Patwon Ki Haveli," also known as the Mansion of Brocade Merchants, is the most popular attraction in the Golden city. The Haveli is a collection of five big havelis. The first haveli, built in 1805 by Guman Chand Patwa, a wealthy merchant, took over 55 years to complete. The Haveli is supposed to have gotten its name from Patwa ji's commerce in gold and silver threads for ladies' clothes. Patwon Ki Haveli is the first and largest haveli to be built in Jaisalmer, and it has a fascinating history. The five havelis were erected for the family, and the compound as a whole is the city's largest residence. It still has a large quantity of antiquities and masonry that provide insight into the Patwa family's regal existence.
Patwon Ki Haveli is a five-story Rajputana mansion built in the classic Jaisalmer style. It's composed of yellow sandstone with exquisite carvings. Each storey has its own haveli, with the base floor's house (the first haveli) being the largest of them all. The entire haveli structure is ornately ornamented with a variety of carved patterns in the sandstone. The doorways and arches, in particular, are enormous and ornately carved. With lofty ceilings, pillars, door frames, mirror work, and paintings, the interiors are just as impressive. The home includes 60 traditional Jharokhas and windows, each with ornately carved stone frames and latticework that lets in natural light and allows for cross circulation.
The Prince of Jaisalmer bestowed the title of "Patwa" on the Bapnas many years ago. In 1805, the Patwa Havelis were commissioned for the late Guman Chand Ji Bapna's five sons. The wealth of the Bapna family significantly outstripped that of Jaisalmer. The family has around 350 offices across Asia in total. At the time, these included large regions such as Afghanistan and China. Cotton, butter, spices, lumber, ivory, gold, silver, jewellery, and even gemstones were all part of the family's business!
The Havelis are now a combination of a government museum, a private museum, and a family-owned business. Patwa Seth Aidan Ji Bapna, the great great grandson of Late Guman Chand Ji Bapna, presently resides in the Patwa complex's third Haveli. He is now responsible for the Haveli's day-to-day operations and maintenance. These Havelis have been meticulously preserved and appears to be 'locked in time' to the time when the family resided there. Two of them are also open to the public as tourist attractions.
To read about other havelis or forts in Jaisalmer, read our blog post https://desert.jaisalmersandsafari.com/jaisalmer-fort-or-sonar-quila/ and https://desert.jaisalmersandsafari.com/haveli-salim-singh-ji-jaisalmer/