The world knows thecity of Jaisalmer quite well, yet we often neglect an area named Lodhruva, which is 15 kilometres north of Jaisalmer. The historical significance of this location stems from the fact that it was the old capital of the Bhatti dynasty until 1156, when it was relocated to Jaisalmer. Lodhruva now has some historic temples that date back to those times like the Lodhruva Jain Temple.
The Jain temple is dedicated to Parshvanatha, the 23rd Tirthankara, and is the main attraction in Lodhruva. When Muhammad Ghori stormed the city in 1178 AD, the old temple was destroyed, but Seth Tharu Shah rebuilt it in 1615, with extensions in 1675 and 1687. The temples were restored in the late 1970s using cutting-edge techniques, and they serve as reminders of the city's former greatness.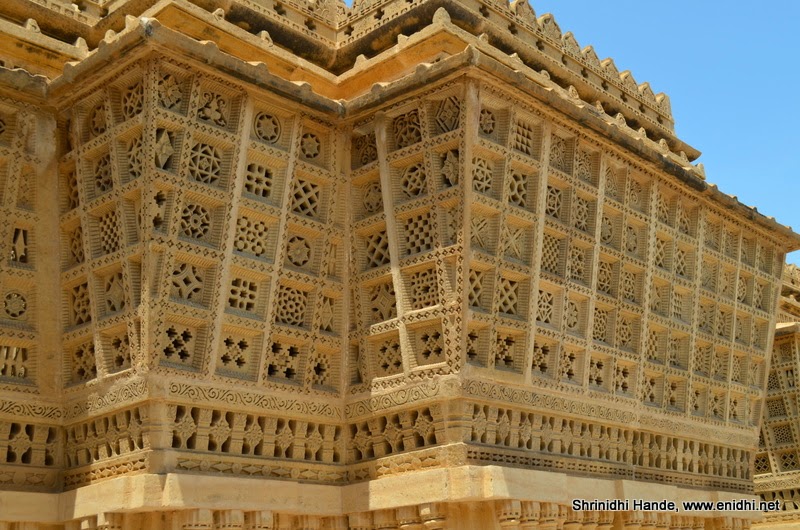 The temple structure has a distinct Chinese influence, demonstrating the city's cosmopolitan nature. This location was a stopover on the Silk Road and a gateway to India. It's no surprise that traders and tourists left their mark on the city's culture and art. The construction appears to be new, however there are evidence of damage on the humanoid sculptures, indicating that old stone pieces were employed.The sculptors built it in the style of an eight-cornered temple. However, because of its slanting walls, it gives the impression of being pagoda-style. The complex Jaali or stone lattice work on the walls is an amalgamated style, while the Shikhar or superstructure is a typical Naagar style. There is one Shikhar that is divided into levels. There is a lovely Toran at the entryway, and the temple appears to have been garlanded through it. You can see the temple beauty only when you enter the temple, which is surrounded by a lofty boundary wall. From afar, it appears to be simply another yellow stone temple.
The temple's mulnayak (main deity) is a black marble Parshvanatha idol. The lodhurva Parshvanath is one of 108 important Parshvanath idols, according to Shvetambara tradition, idols take their names from geographical regions. Every evening, a snake emerges from a hole in the temple to sip milk offerings, according to Jain religion. The sight of this snake, according to popular belief, is a gift.